✔️ Füred Erdei Vendégház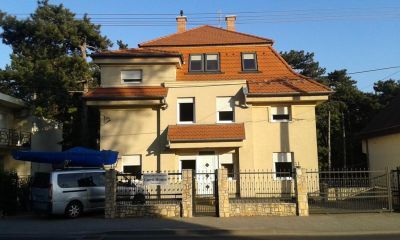 Füred Erdei Vendégház, Balatonfüred - Cheap accomodation at Lake-Balaton
Erdei guesthouse Balatonfüred - Cheap and nice accommodation, apartment in Balatonfüred

Füredi Guesthouse is 900 meters away from Lake Balaton, in Balatonfüred. The guesthouse is home to families with small forest and playground. Pets are welcome.

The Erdei Vendégház Balatonfüred has 7 non-smoking rooms, including 4 double and 3 triple rooms.
All rooms have cable TV and a private bathroom with shower. The guest house also has a shared kitchen.

After a prior appointment, breakfast is available. There is a restaurant 50 meters away from the Füredi Guesthouse.

Parking at Füredi Guesthouse is available upon prior reservation and at an additional cost.
Tagore promenade is 850 meters away, Balatonfured Station is 700 meters away and Annagora Aquapark is 1.7 km from the Füred Erdei Guesthouse.

The guest lounge has a billiard room and there are various indoor games such as cards, chess, board games (with their own brought toys) in the lounge.

In the garden you can cook for barbecuing, but the guesthouse can only provide you the place.