✔️ Hotel Béke Hajdúszoboszló ****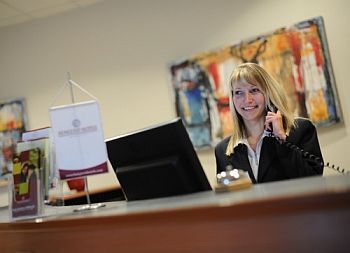 Hunguest Hotel Béke Hajdúszoboszló **** - Discount package offers with half board for a wellness weekend
Location:
Hunguest Hotel Beke is situated in the famous spa city, in Hajduszoboszlo that is also known as the "Mecca of the rheumatics".
Hajduszoboszlo is located 200 kms away from Budapest. By car it is accessible on motorway M3 and M35 or it can be reached by scheduled trains. Due to the Debrecen Airport Hajdúszoboszló is easy to reach by plane as well.
Rooms:
The fully renovated Hunguest Hotel Béke awaits its guests with 203 air-conditioned rooms in different room types: single and double rooms, apartments, connecting family rooms and specially equipped apartments for the physically handicapped guests. All of them are equipped with modern furniture and appliances - LCD TV, phone, minibar, adjustable air-conditioning, safe and hair dryer belong to the basic equipment of the rooms. With the exception of two, each room has a balcony.
The apartment house, located next to the main building of the hotel, offers 21 apartments with kitchen so it provides an ideal accommodation solution for families. All apartments are air-conditioned and are equipped with an LCD TV, Internet access, kitchen devices and hair dryer.
Gastronomy:
The air-conditioned restaurant of Hunguest Hotel Béke Hajdúszoboszló is capable to hold 300 persons and offers both a' la carte and all-you-can-eat meals. In addition to the specialities of the traditional Hungarian and the international cuisine special courses are also available (e.g. low carbohydrate content, lactose-free, gluten-free meals).
Spa- and wellness facilities:
The bath complex of Hunguest Hotel Beke is with fun bath, thermal water pool, swimming pool, family pool and outdoor thermal water pool at its guests' disposal in 3500 m² water surface. In the sauna world infrasauna, steam- and aromacabin as well as outdoor log sauna are available.
In the spa department of the hotel more types of spa treatments with medical attention are disposable including medicinal massage, mud therapy, medicinal gymnastics, inhalation, etc. Due to the rich salt-, iodine- and bromine content of the thermal water of Hajduszoboszlo, it is suitable to the treatment of locomotor diseases. In the form of bath- and inhalation cure it is also suitable to the easement of dermatological-, internal- and gynecological pains.
Events and conferences:
The 'Hajdu' conference hall with modern technical devices of Hotel Béke Hajdúszoboszló has 350 seats. In addition to the conference room there are also 7 section rooms in the hotel offering an ideal venue for the arrangement of conferences, trainings, exhibitions and business meetings.