✔️ Old Mill Apartments Centre of Budapest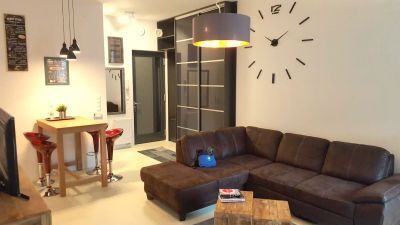 The Old Mill Apartments Budapest - Affordable accommodation in the centre of Budapest

The Old Mill Budapest Apartments are surrounded by sights, the apartments are close to the Great Market Hall, the Museum of Applied Arts, the National Theater and one of the tourist centers of Budapest, Ráday Street, where restaurants, cafes, theaters and galleries await visitors. Cheap Budapest apartments at a discounted price for longer periods.

The Old Mill Budapest Apartments have high ceilings and large, bright spaces. There are unique styles in the apartments, such as brick walls and columns and beam supports.
Apartments also have apartments for 2 and 4 people.

The apartments are all non-smoking, tastefully decorated and have a balcony and a kitchen. The apartments are equipped with kitchenware, a refrigerator, a wardrobe, a TV and an iron.
The apartments have WiFi internet access.

The building has an elevator and the entire building is non-smoking.

A shuttle service is available at an additional cost.

Child-friendly Services at The Old Mill Apartments in Budapest: Highchair, Baby Bath, Performer and Crib.

The apartments also accommodate pets at an additional cost.