✔️ Hotel Saphir Aqua Aparthotel Sopron ****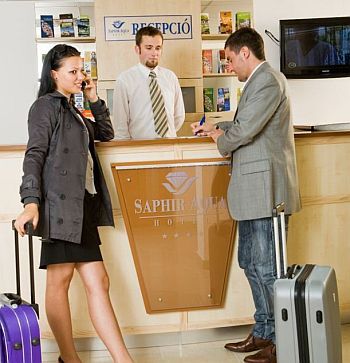 Saphir Aqua Aparthotel **** Sopron Dear Guest the Saphir Aqua Aparthotel is closed at this time, we are not distributing its rooms. We are thankful for your understanding. Our recommended hotels in Sopron: Hotel Lovér Sopron, Pannonia Med Hotel, Sopron Hotel Palatinus, Hotel Fagus Sopron.
The brand new 4-star Saphir Aqua Aparthotel is situated in the forests of Lövérek in Sopron in a unique natural environment. The wellness hotel opened its gates early summer 2010 only 5 kms from the Hungarian - Austrian border.
The wellness apartment hotel awaits the guests who seek relaxation and rejuvenation. Saphir Aqua Hotel is directly connected to Lövér outdoor pools which can be used by hotel guests free of charge. Come and discover Sopron, the town of loyalty and freedom!
Saphir Aqua Aparthotel offers 30 apartments in different sizes. Each of the nicely decorated apartments have a well equipped kitchen, bathroom, a terrace or a balcony. The hotel's spacious apartments can accommodate two, four or even five persons.
The basic equipments of the apartments are the following: a kitchen corner with built in hot plate or electric cooker, hair dryer, LCD TV with SAT-programs, telephone and free Internet access.
Hotel Saphir Aqua Superior Double Bed Apartment:
This room type can accommodate 2 people, in most of our double bed apartments there are double beds, but there are some apartments with twin beds as well.
Hotel Saphir Aqua Superior 4-Bed Apartment:
The spacious 2-roomed apartments are ideal to host bigger families. From the living room a separate space can be parted, the rooms have double beds and further single beds, they are equipped with a kitchen corner and an eating corner as well.
Hotel Saphir Aqua Superior 5-Bed Apartment:
This type of 2-roomed apartments is best suitable for a family with 5 members. In its equipment and distribution these apartments are similar to superior 4-bed apartments.
In Saphir Aqua Aparthotel's wellness department our guests can use the swimming pool, jacuzzi, Finnish sauna, steam cabin and the relaxation room free of charge.
It is possible to pamper your body and soul with different massages. Spend a wellness weekend in Sopron and pamper yourself with our wellness services in Saphir Aqua Aparthotel!
Further free services of the hotel are the use of wireless Internet in the hotel and the use of closed parking lot in the inside courtyard of the hotel.
Guests can have their breakfast on the highest floor of the hotel, in the breakfast room offering a beautiful panoramic view to the Lövérek mountains.
The hotel's Wellness Bar offers different special shakes.
In Saphire Aqua Aparthotel you can rent a bike or have tennis lessons on the neighbouring tennis courts.
Saphir Aqua Aparthotel pays special attention to children, qualified teachers play with the children in the Kid's Corner.
Both the younger and the elder generations can have fun in the Leisure Room which is on the same floor as the wellness department. In the Leisure Room table tennis, darts and table football (csocsó) can be played.
Beside the sights and festivals in Sopron, Saphir Aqua Aparthotel offers several sport activities in Sopron and in its vicinity for those who want to have an active holiday: horse riding, touring, ski, aqua fitness, Nordic Walking, cycling tour, bob, angling. The braver ones can try out the Lővér Adventure Park, where they can balance on a cable railway between the shrouds of trees in a height of 9 meters.