✔️ Solaris Apartman Cserkeszőlő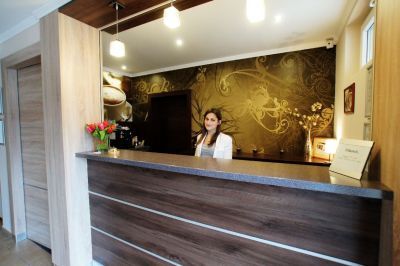 Solaris Apartments Cserkeszolo - apartments with half board and entrance ticket to the spa
Cserkeszőlő is easily accessible from any point of the country. You can reach the village from Budapest on the motorway M5, then from Kecskemét on the main public transport route number 44.
Solaris Apartments & Resort in Cserkeszolo is located directly opposite the Thermal Bath of the city. The modernly equipped apartments provide excellent accommodation for families, friends and couples. The apartments combine the freedom of holiday houses with holiday freedom with the hotel's comfort and demanding design.

Solaris Apartments are furnished in modern style. The 40-48 sqm apartments are equipped with one or two bedrooms, a kitchen and a bathroom, where private thermal water is available.
There is a lift in the apartment house.
Standard Apartments:
Standard apartments consist of a bedroom, a bathroom, a kitchen and a living room. These apartments can accommodate up to 4 people.

Superior Apartments:
Superior apartments also have a terrace, can accommodate up to 4 people.

Family apartments:
Family apartments have 2 bedrooms, a kitchen, a bathroom and a living room, can accommodate up to 6 people.

Penthouse apartment:
The penthause apartment has a panoramic outdoor view, for 4 people maximum.

Cserkeszőlő Spa and Outdoor Bath offers a two-track canopy slide, an extra wave pool, a unique adventure pool, swimming and thermal pools, spa baths and spa bathtubs.
The spa also has a modern medical center, where the medical services financed by the social security service can be used throughout the year.
The new winter spa building, which was delivered in November 2010, has a fitness room, two healing pools, one of which features an indoor swimming pool, a children's pool, an adventure pool, a pool of tanks and a jacuzzi.

In Solaris Apartment House, self-sufficiency can be combined with different types of services, guests may also require breakfast and half board. There are many dining options near the apartment house.

Solaris Apartman & Resort offers free use of the closed car park and the wifi network for guests.