✔️ Bonvital Wellness Gastro Hotel Hévíz ****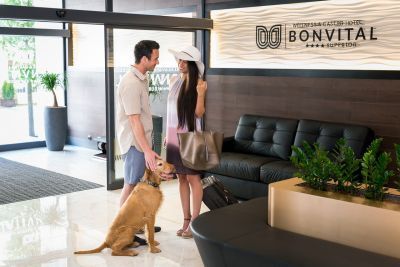 Bonvital Wellness & Gasztro Hotel Hévíz - Spa, thermal and wellness hotel in Heviz at discount prices
The newest spa and wellness hotel of Heviz, Bonvital Wellness & Gasztro Hotel Hévíz **** superior awaits its kind guests from January 2013 in the vicinity of the thermal lake, connecting to the St. Andras hospital via a heated passage. The connection with the hospital is adventageous to Hotel Bonvital, because the hotel guests can integrate and combine the hotel's medical treatments with the hospital's.
Beacause of thechnical causes we can temporary guarantee the half-board meals for our guests in the restaurant of Hotel Panorama, which can be approached through a gallery from the hotel !!
Rooms of Hotel Bonvital:
Hotel Bonvital **** is with 49 uniquely equipped, exclusive double rooms at the guests' disposal. The colours and the motives of the rooms symbolize the healing power of the four elements - Earth, Water, Air, Fire. Part of the rooms are perfectly suitable to the physically handicapped guests, as they can be booked with devices making movement easier. The basic equipment of the rooms include individual temperature adjustment, air-conditioning, high-speed internet connection and WiFi, phone, LCD television with mp3 connectivity, radio, satellite- and movie channels, Pay-TV, safe, minibar, bathroom with shower, hair dryer, cosmetic and hygienic set. The equipment of the rooms were formed in the spirit of healthy lifestyle: mattress with excellent orthopedic features, black out curtain, ergonomic chairs belong to all rooms of Hotel Bonvital and for surcharge other extra services are provided: salt-wall and nightly breathing monitor, chromotherapy lamp, antiallergic bed-linen, herbal tea set, blood pressure- and glucose monitor.
On the hotel's 3rd floor - executive floor - are located 30 uniquely equipped executive rooms. All of them have a roof terrace providing a magnificient view and contributing to the feeling of whole freedom and looseness. Moreover Hotel Bonvital has 7 two-roomed apartments, 1 Park Suite, 1 executive apartment and 2 executive suites.
Wellness services in Hotel Bonvital:
Hotel Bonvital offers high-level wellness services to its guests. The guests can avail themselves of different bath treatments (for example Cleopatra bath), pampering wraps, complex body and exclusive treatments, like golden, caviar or golden spa body treatments.
The hotel's sauna world has traditional (Finnish sauna, Turkish steam bath, infrared sauna) and special saunas (bio sauna, herbarium, aromacabin), where different sauna séances are provided, like beer, honey or chocolate infusions.
In addition to the general, medical and shaping massages such special massages can be found in the range of the wellness services, like sound massage, Ayurvedic massage or Russian-Tibetian honey massage.
Medical services in Hotel Bonvital:
In the therapeutic department of Hotel Bonvital complex medical treatments as well as medical examinations are available. The hotel guests can take part in individual and group medical gymnastics and can avail themselves of tangentor, carbon dioxide bath, electric, inhaled and magnetic treatments. Between the hotel's medical services different mud treatments (sitting mud treatment or mud bath) based on the mud of Heviz are also available.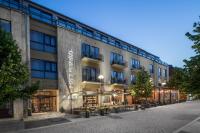 ✔️ Téli hétvégi álom félpanzióval a Bonvital Hotelben (min. 2 night)

2023.12.01 - 2023.12.22
Téli hétvégi álom félpanzióval a Bonvital Hotelben (min. 2 éj) 28.400 Ft / fő / éj ártól / félpanziós ellátás / korlátlan wellness használat / fürdőköpeny használat / ingyenes WiFi /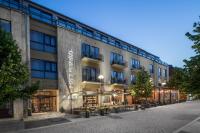 ✔️ Téli hétköznapi álom a Bonvital Hotelben (min. 2 night)

2023.12.01 - 2023.12.22
Téli hétköznapi álom a Bonvital Hotelben (min. 2 éj) 23.400 Ft / fő / éj ártól / félpanziós ellátás / korlátlan wellness használat / fürdőköpeny / ingyenes WiFi /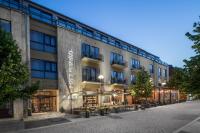 ✔️ Karácsonyi akció a Bonvital Hotelben Hévízen (min. 2 night)

2023.12.24 - 2023.12.27
Karácsonyi akció a Bonvital Hotelben Hévízen (min. 2 éj) 33.400 Ft / fő / éj ártól / félpanziós ellátás / karácsonyi programok / korlátlan wellness használat / fürdőköpeny használat / ingyenes WiFi /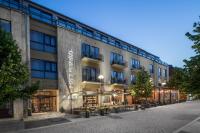 ✔️ Szilveszteri akció Hévízen a Bonvital Hotelben (min. 3 night)

2023.12.29 - 2024.01.02
SILVER szilveszteri akció Hévízen a Bonvital Hotelben (min. 3 éj) 46.900 Ft / fő / éj ártól / félpanziós ellátás / ünnepi programok / korlátlan wellness használat / fürdőköpeny / ingyenes WiFi /