✔️ Szalajka Liget Hotel Szilvásvárad ****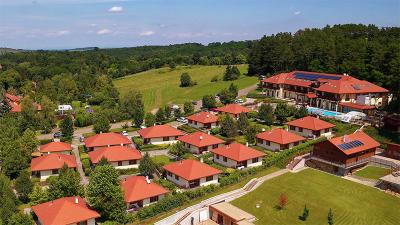 Hotel Szalajka Liget**** Superior and Apartment Houses in Szilvasvarad
Hotel Szalajka Liget is located in Northern Hungary, in Szilvasvarad, on the western side of Bukk Hills, in the closest neighbourhood of the Bukk National Park, in a 164 km distance from Budapest, and 30 km from Eger.
The 4-star wellness hotel and holiday resort is easy to reach on the M3 highway and on the road nr. 3 or on the road nr. 25.
Hotel Szalajka Liget and Apartment Houses combine the beautiful landscape of Szalajka valley with high quality services.
In 2010 the holiday resort won the Hungarian hospitality award and achieved an international 2Q classification.

The central building of the holiday resort of Szilvasvarad, offers 25 opulent rooms. For handicapped guests the hotel has a specially designed room with balcony on the first floor for the requirements and comfort of disabled guests.
Every room is equipped with TV, phone, internet access, radio, French or twin beds, bedside table, corner armchair and hairdryer in the bath.

We assure by demand for our guests suffering from allergic diseases antiallergenic boarding and bedding, pillow and bedspread included.

Hotel Szalajka Liget and its restaurant are non-smoking establishments, smoking is allowed only in the open air areas.

Room types in Hotel Szajka Liget:
Double rooms with balcony (24 m²): 12 air conditioned rooms with minibar and balcony (9 m²) with forest or valley view. Bathrooms with shower or with bathtub are available. One extra bed can be placed in them.

Loft-double room (24 m²): 13 air conditioned double rooms with minibar and at least two roof windows. Bathrooms with shower or bathtub can be chosen.

Families can request loft rooms extendable with couch, perfect accommodation for 2 adults and 2 children (up to 12 years).

Apartments in Szilvasvarad:
Hotel Szalajka Liget Hotel **** and Apartment Houses await their guests with 13 apartments: 10 apartments for 4+2 people and 3 apartments for 6+2 people. There is an apartment which is ideal for satisfying the special requirements of handicapped guests.
The apartment houses can be found near the central building, all of them have gas heating, so the houses offer perfect accommodation the whole year long for families and for groups of friends. In every apartment house the winter cold can be chased away with the warmth of the fireplaces in the living room.
The equipment of the apartments: living room with fireplace, kitchenette and living room set with pull out bed, terrace (16 m²) with wooden garden furniture, bath with shower or bathtub and WC, a bedroom with French bed and a bed room with twin beds - in the houses for 6+2 people is an extra bedroom with twin beds. The kitchenette is furnished with fridge, microwave oven, gas stove and kitchen equipment for up to 6 or 8 people. The living and bedrooms are equally equipped as the hotel rooms.

In the 3 apartment houses with a capacity of 6+2 people (86 m²) there is a third bedroom, larger living room and kitchen, extra cloakroom and lavatory.

Pets are welcome in the hotel and in the apartment houses as well, except of the restaurant and the wellness area.

Wellness services in Hotel Szalajka Liget:
The holiday resort in Szilvasvarad offers a 15 x 7 meters large outdoor pool, in winter time it can be covered and can be connected to the inside wellness area so guests can use it all the year round.
The wellness centre awaits its clients with various relaxing services: Finnish saunas, steam-, aromatic- and salt chamber, infra sauna, jacuzzi and resting place are available. Professional masseurs assure the perfect regeneration for body and soul.

Gastronomy in the wellness hotel Szalajka Liget:
The restaurant for up to 130 people offers the highlights of the traditional Hungarian cuisine.

Conference and meeting rooms in Szalajka Liget Holiday Complex:
The event and meeting rooms in the hotel complex can be separated into eight section rooms, have a max. capacity of 140 persons. Connected to the restaurant, the event room is the ideal place for conferences, company events or family celebrations for up to 250 participants. The services are completed by the excellent technical equipment and the garden terrace for up to 100 people.

Program facilities and family friendly services in Hotel Szalajka Liget:
Child friendly services: Outdoor playground with lavatory and shower in closest near, indoor playing area with a lot of interesting toys, children's book and films, in the restaurant children's menu, basic medicaments and thermometer.
The hotel assures an easy-going holiday for the families with various equipment for children's care: limited amount of baby cot, portable wooden crib, chamber pot, children's bedding, nonslip bath- and shower mats, high chair, kid's bike helmet, children's bicycle, board games, chess game, card games, and swimming belt are available for free by demand. Please inform us in advance if you are planning to lend out some of the listed equipment.

The hotel offers colourful program facilities: rent-a-bike, tour guiding, riding, coach ride, team building trainings for companies, truffles hunting, adventure tours, animation programs, selfness life-style programs, treatments for diabetics and diet cures.

Programmes in Szilvasvarad and surrounding:
The Szalajka valley and the Istallosko-cave are the hikers beloved aiming points, Szilvasvarad and surrounding offers both cultural and entertainment options, car racing, adventure park, ski track, the world wide known Lipizzan stud, hiking and bike tours, forest railway, the city of Eger, Prison Museum and the Millennium look-out tower.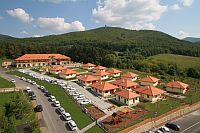 ✔️ Őszutó Szilvásváradon a Szalajka Liget Hotelben (min. 1 night)

2023.11.05 - 2023.12.21
Őszutó Szilvásváradon a Szalajka Liget Hotelben (min. 1 éj) 22.500 Ft / fő / éj ártól / félpanzió / wellness részleg / Szalajka Relax Park térítésmentes szolgáltatásai / ingyenes wifi /